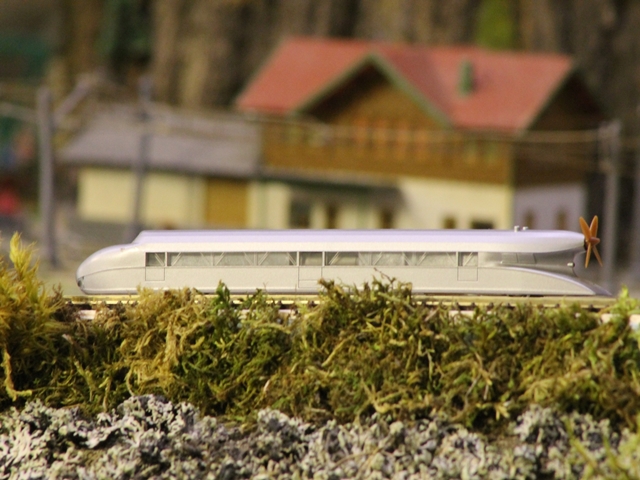 The "Schienenzeppelin" is a prototype of a high-speed railcar for the Deutsche Reichsbahn designed by Franz Kruckenberg in the 1930s, which was intended to reach a speed of 160 km/h on the existing rail network and 200 km/h on suitable and future planned high-speed lines.
The vehicle is designed in lightweight construction with a streamlined carriage body in a tubular construction. The tubular frame of the car body is covered with silver-coloured fireproof impregnated canvas. The seats are also tubular constructions with textile covering.
The running gear consists of two axles, of which the front one is equipped with a small battery-powered electric drive for reverse driving only. The rear axle is without drive. Forward propulsion is provided by a wooden propeller at the rear of the vehicle, powered by a 600 hp BMW aircraft engine. Since no reversible propellers were available at the time, braking power had to be provided by the running axles alone.
From 9 May 1931, test runs were carried out on the public rail network. The last speed reached was 230 km/h.
In the end, after several modifications to the chassis, drive technology and brakes, the development of the vehicle was not pursued further by the Deutsche Reichsbahn, also due to safety concerns regarding the carriage stability in relation to conventional railway vehicle designs. Instead, the Deutsche Reichsbahn commissioned the SVT 877 (high-speed railcar with combustion engine) "Flying Hamburger" with a maximum speed of 160 km/h.