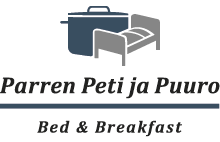 Our B&B service belongs to an old farm built in the 1920s.
The accommodation to the B&B is usually in the house "Number Five", which is equipped with shower and toilet and its own kitchen. If you would like a cheaper B&B option, or if number five is already occupied, we can also accommodate you, for example, in the sauna room, in Anja's attic or in the "sleeping car" in the outbuildings. Places for camper or tents are also available. A toilet in the outbuilding and a shower in the sauna are available. Breakfast is served in our old farmhouse and is freshly prepared by us with as many organic and regional products as possible.
Prices
B&B, 38 €/person/night (bathroom in the house)
B&B barn accomodation, 25 €/person/night (toilet and shower in neighbouring houses)
The house "Number Five", built in 1986 as a small family house, has room for 1-6 people. It serves as accommodation for our B&B, but can also be rented as a whole. It has its own bathroom with shower, toilet and washing machine, a kitchen and a cozy living room with a large brick stove, which in winter provides a cozy warmth in addition to the central heating. The kitchen is equipped with refrigerator, freezer and dishwasher.